Our natural hair salon in Rosemère is staffed by stylists and hair colorists who are up to date on the latest trends and concerned about the health of your hair. For your hair care, we are proud to use only natural products: shampoos, conditioners, masks, emulsions as well as a complete natural hair care line of certified organic and Ecocert products. We also have three types of hair coloring that respect your hair and scalp to offer you the best for your well-being. We are the reference in natural and vegetal hair coloring on the North Shore of Montreal!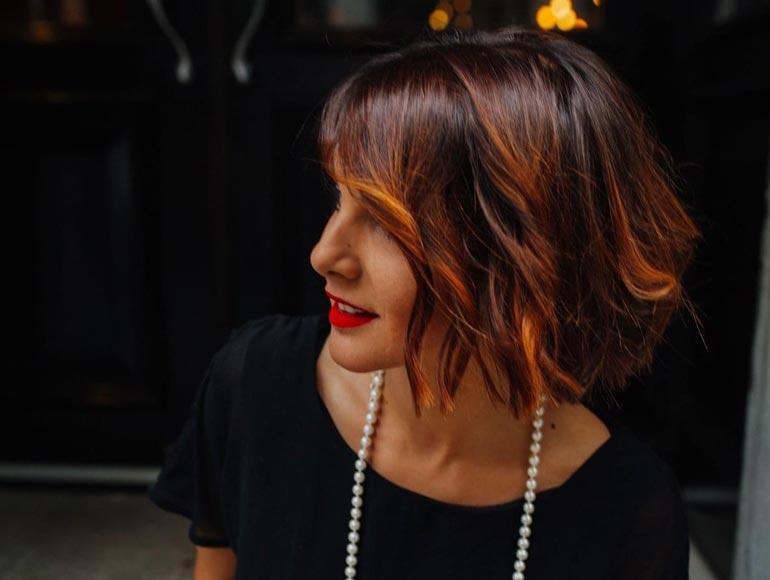 100% natural
vegetal hair color
Certified organic 100% natural vegetal hair color is the ideal solution for people who are allergic to conventional hair coloring, whose hair is weak or who are undergoing chemotherapy/radiation treatment. Gentle on the scalp, this natural dye enhances your base color while making your hair more vigorous and shiny.
Unlike chemical hair dyes that chemically alter pigmentation, vegetable hair dye envelops the hair with natural plant pigments that smooth and protect it. It is available in nine shades that respect the original color of the hair fiber and offers 100% coverage of white and gray.
Are you looking for authenticity and well-being? Our colorist experts will tell you if vegetable coloring is right for your hair (allergy test available upon request). A prior consultation is strongly recommended. This technique requires more time per appointment and is more expensive.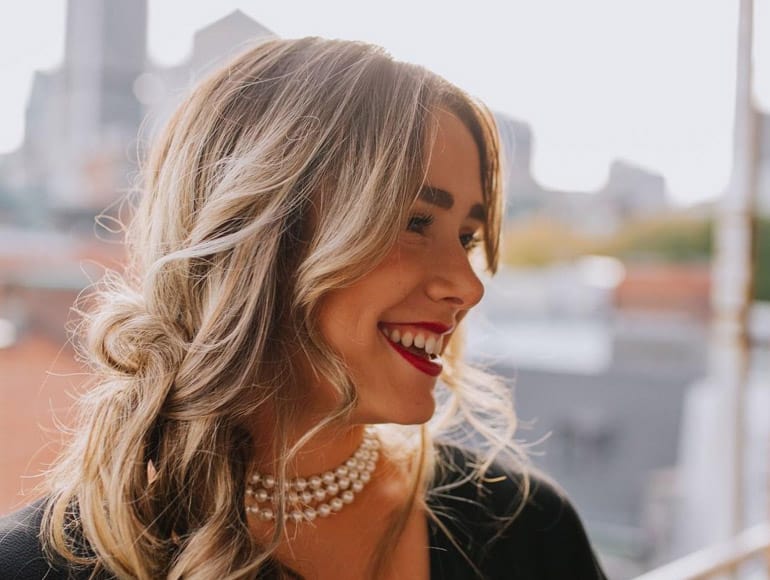 The innovative and healthy formula of the mineral hair color makes it a perfect choice for people who suffer from itching, scalp sensitivity and/or allergies to the scalp or to certain harsh ingredients. It is composed of pure and natural extracts of mother-of-pearl, for its high mineral concentration, arginine, vegetable oils and butters and organic ingredients that bring shine and softness to the hair, as well as a long-lasting color.
Many women choose mineral hair color because it is available in 33 shades and provides 100% coverage of white hair. The composition of this hair color is guaranteed free of MEA (ethanolamine), ammonia, resorcinol, PEG, EDTA, PPD and PTD. We will be pleased to show you this natural hair color (allergy test offered by appointment).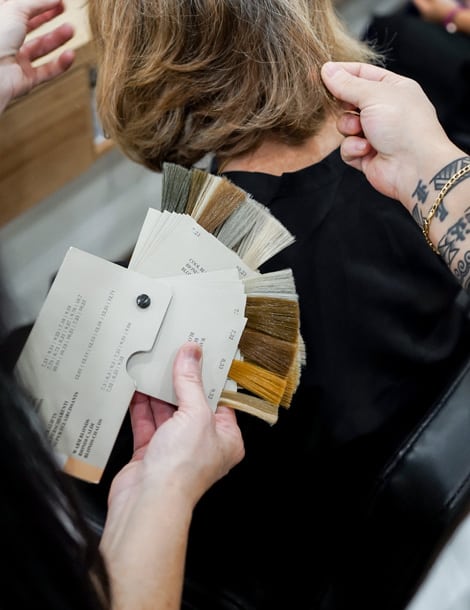 Available in about 30 shades, this is the best hair color made with soft chemistry. This ammonia-free hair color contains no parabens, PPD, silicone or sulfates. It's the first professional hair color formulated with olive oil to provide unparalleled shine, moisture and softness to hair. No unpleasant odor, as it leaves a delicate scent of sage and honey!
Its unique formula respects the hair fiber and provides perfect coverage for gray and white hair. At the Hair Health Center, we protect your hair throughout the process: before, during and after the application of the dye, we use 100% natural hair care products that help preserve your hair.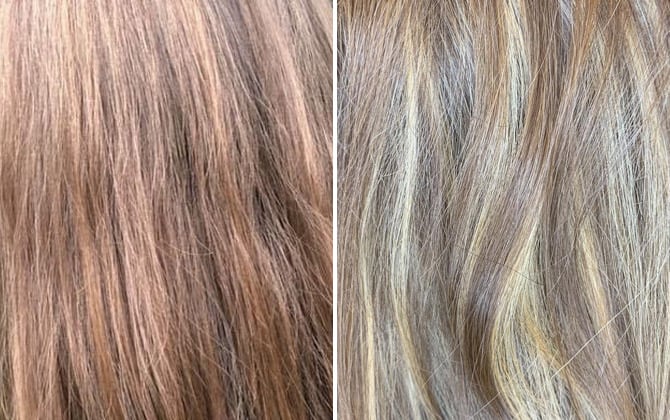 Want highlights
or a balayage?
The mineral lightening powder we use allows us to obtain a lightening of up to six tones without destroying the hair scales. It is composed of diamond powder and natural mineral agents. The application time is the same as for chemical hair products and the results are extraordinary. Looking for the perfect blonde? You will get it!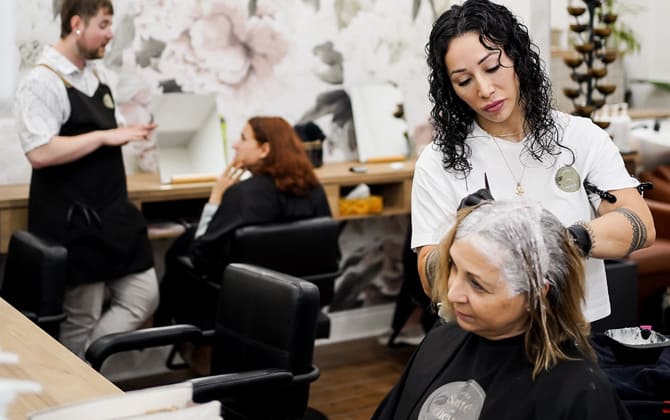 Your natural hair salon
in Rosemère
Established since 1976, our organic and natural hair salon places great importance on the health of your hair. All the shampoos and styling products we use are made of 100% natural ingredients.. Whether it's for a cut, a style or a color, you can count on our stylists and colorists to offer you styles that are up-to-date and adapted to your physiognomy. Come and experience natural hair styling for women, men and children!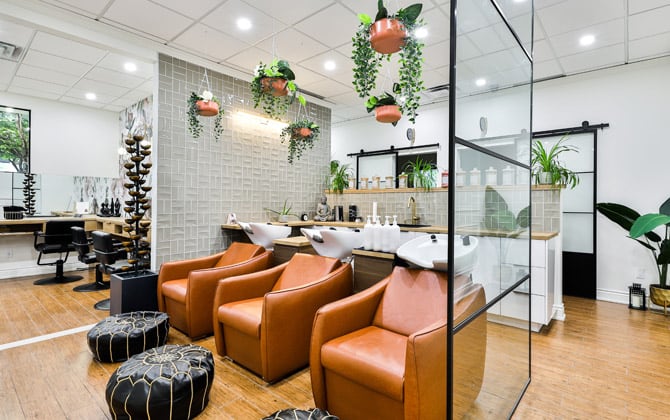 The benchmark
in hair health
Hair loss, itching? Our team includes experts in trichology who can identify the hair condition that is afflicting you and propose effective solutions adapted to your needs. The Hair Health Center, in Rosemère, near Montreal, is certified by the International Association of Trichologists (IAT) in Quebec!
Testimonials
We benefited from Emilie's services. We appreciated her great knowledge and noticed her hair quality.
Leila Lakhoua
The place is zen, spacious, tastefully decorated, comfortable, clean and so welcoming, offering many services. What can I say about my hairdresser, Geneviève Godbout, who listens, has fairy fingers, long experience and good advice, and is always smiling and caring. Thank you!!!!!!
Ginette
A professional team that brings your hair back to life with highly effective natural treatments. If you want healthy, beautiful hair and expert hair coloring advice, this is the best place. Thanks to Sophie, Ginette and Marcelle!
L. Tremblay
I just came from an appointment at Santé du Cheveu and once again, the results are amazing. I am very satisfied, as much for my new head as for the quality of the service, the talent and the kindness of the hairdressers.
Marie-Claude Rivard
I always get good advice. Your products are great for my extremely curly hair. They untangle very well. The atmosphere is very pleasant.
Karoline
Thank you to Geneviève who is not only an excellent hairdresser, but spending an hour in her company is also a quality moment for yourself. His presence, his ability to listen and his kindness make all the difference! The Santé du Cheveu center is a beautiful place where you are warmly welcomed.
Judith
It is always a pleasure to meet with them. The welcome is warm and the staff is courteous. Sophie is the one who does my dyeing, she always listens to my expectations, gives good advice and is excellent! Thank you and see you next time!
Sylvie
The living room is very spacious, very pleasant, warm and welcoming so that one feels really comfortable. Everything is well thought out! There's room for everything! I particularly appreciate its transformation since its move. It used to be nice, but now it's beautiful! As for my hairdresser Rémi, he is extremely talented, as much for the coloring as for the haircuts which are particularly successful😊. I feel totally confident with him. He is a great listener and advisor! Thank you Rémi!
Catherine
I fell in love with your salon, the warm welcome and gentle, respectful approach make your business a great place to be. Your staff is qualified and friendly. The results are amazing! The products offered are absolutely efficient and in accordance with the respect of the natural approach that has been calling me for a few years. I am so charmed that I would like to join your team!!!
Magali